Helping Texas Employees
Get The Justice They Deserve
About us
We are here to fight against any employer, large or small, to defend employee rights
Trust our team of attorneys, paralegals, and legal assistants who all work tirelessly for the rights of our clients in securing the justice they deserve and need for all workplace disputes. We are dedicated to offer our clients the best solutions with honesty, efficiency, and professionalism.
Experienced Lawyers
Big Firm Power
Personable Service
Innovative
Zev Abramson
Zev Abramson
( Attorney & Partner )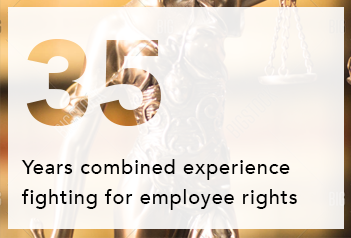 You Do Not Pay Unless We Win
At Abramson Labor Group, we don't charge you anything unless we take your case and win a settlement or a verdict. This is called "contingency-based payment," and it's designed to make legal representation accessible to people who couldn't otherwise afford it.
That means your evaluation with us is free. You won't pay for any legal counsel or court fees. Nothing comes out of your pocket, ever. If you win a cash judgment, we share a piece of that, and that's how we collect payment.
Verdicts & Settlements
We Fight For You
See some of our recent victories for clients, including:
Retaliation & Racial Discrimination
Our Legal Team
Attorneys Who Passionately Fight For Justice
We are a highly dedicated and experienced team of attorneys who will constantly fight for your rights to help you get the compensation you deserve.
Get In Touch With Us
Abramson Labor Group offers 100% risk free consultations. Fill out the form below or call us today!