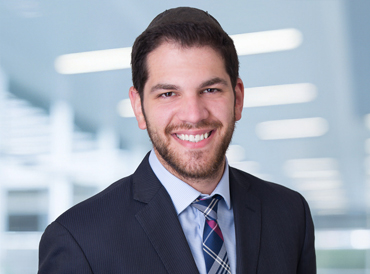 Barry Rosenberg holds a B.A. in Economics from Yeshiva University and a J.D. from St. John's University School of Law.
While in law school, Barry focused his work experience on Employment Law. After spending a summer clerking for the Honorable Leon Ruckelsman in the Kings County Supreme Court, Barry interned at the Equal Employment Opportunity Commission in its New York City office where he received true hands-on experience in the investigative process and anatomy of an Adverse Employment claim. Barry's employment law experience continued with two more internships at boutique Employment Law firms. For his last semester of law school, Barry worked at the United States Postal Service's Legal Department focusing on Employment Law defense. After law school, Barry worked at Gutman Mintz Baker & Sonnenfeldt LLP in New York for a year and a half gaining indispensable experience in motion drafting and court appearances.
Barry went into law to help those who are oppressed by an unfair balance of power. While in law school, Barry volunteered at the Resolution Assistance Program in the housing court in Manhattan assisting tenants who were being unfairly treated by their landlords navigate the complicated court system. At ALG, Barry assists employees who are wronged by their employers.
Barry has been a member of The Maccabeats, a premier Jewish Acapella group, since its inception in 2008. Barry continues to perform with the group when possible. Outside of work, Barry spends all his time with his wife and kids.
Barry is a member of the State Bars of New York, New Jersey and California.